The lessons will be held in person at the Central University of Pavia Campus located at Corso Strada Nuova 65. The lessons will take place on the following days:
Knowledge of Italian and European laws on the treatment and protection of personal data
9:00 AM - 1:00 PM
Knowledge of Italian and European laws on the treatment and protection of personal data
The EU Regulation 2016/679;
The e-privacy Directive;
The Italian Privacy Code;
Secondary legislation on privacy and protection of personal data;
The general principles of the discipline;
The European strategy for regulation of the data-driven economy.
Advocate Enrico Pelino , Expert in computer law, PhD
The possible threats to the protection of personal data
2:00 PM - 6:00 PM
The intervention will initially reflect on the evolution and involution of surveillance capitalism and, therefore, on the risks to the rights and freedoms of digital citizens, and then delve into aspects of data protection and computer security in the transnational contexts of the web.
The problems of personal data violation and extra-EU transfer will be addressed by suggesting a pragmatic approach to the subject that gives systematic implementation to the fundamental principle of accountability.
Advocate Andrea Lisi, President of ANORC Professioni and Honorary President of ANORC
Methods for analyzing unstructured information and business processes
9:00 AM - 1:00 PM
Dr. Giovanni Marmini, Business Development Manager at TÜV Thüringen Italia
Understanding business processes
2:00 PM - 6:00 PM
The General Data Protection Regulation (GDPR) is a European regulation that establishes rules for protecting the personal data of European Union citizens. Understanding business processes using GDPR logic is essential to ensure compliance and prevent punitive sanctions. We will analyze how GDPR logic can be used to identify and assess data protection risks within a company, and how these can be managed through the definition of appropriate policies and procedures.
In addition, we will analyze how GDPR can help promote transparency and accountability within the company, and how it can be used to improve customer and citizen trust in the use of their personal data.
Dr. Andrea Chiozzi, CEO of Privacy Lab S.r.l.
Database structures and the organization of its contents
9:00 AM - 1:00 PM
Databases are essential for making information collections work from which to offer services to users. One must know the different data organizations to understand their operation and the opportunities offered.
One must know how to search for information in order to be able to find it immediately. One must know how to defend them in order to avoid losses. One must know the software to use in order to create and manage them.
Prof. Roberto Marmo, Adjunct Professor of Computer Science at the University of Pavia
Understanding the responsibilities associated with personal data processing and the rights of stakeholders
2:00 PM - 6:00 PM
The lecture is aimed at illustrating the two aspects of greater impact for companies and citizens provided for by the European data protection legislation, the responsibilities of companies (data controllers and providers) in managing personal data with a particular focus on reputational damage following data losses and the new rights of individuals over their data with the related management of requests to exercise these rights by stakeholders.
Multiple real-life cases will be illustrated with best practice indications and an exercise will be carried out on the exercise of data rights.
Avv. Mauro Alovisio, Coordinator of the GDPR advanced course at the University of Turin
Understanding of computer and telecommunications networks
9:00 AM - 1:00 PM
Today, a huge amount of information travels through the networks that connect computers around the world. It is necessary to know the various connection possibilities in order to understand how to put the pieces together. It is necessary to know the hardware to create a network and fix malfunctions. It is necessary to know the communication protocols to understand how data travels, fix malfunctions, and reconstruct traffic. It is necessary to know how to protect a network in order to avoid losses.
Prof. Roberto Marmo, Adjunct Professor in Computer Science at the University of Pavia
Understanding the technological impacts on personal data protection
2:00 PM - 6:00 PM
Proper data governance has become of primary importance in the digital society. In this lecture, we will address topics such as data security, the responsibility of those who handle information, how big data and AI have changed the legal and social framework, and how the law can intervene to try to anticipate or mitigate risks.
Dr. Giovanni Ziccardi, Professor of Legal Informatics – University of Milan
Impact Assessment Methodologies and DPIA
9:00 AM - 1:00 PM
The lecture will provide the necessary information to understand the objectives and methods of conducting impact assessments. The relevant legislation will be analyzed, the cases of obligation, the contents of the DPIA, and the elaboration methodologies.
Dr. Simona Persi, DPO, expert in data protection
Understanding the possible threats
2:00 PM - 6:00 PM
New forms and modes of connection, personal and professional lifestyles (Big Data, IoT, BYOD, Smart Working, 5G), as well as the most relevant use of mobile devices, increase our comfort but often also turn into new opportunities for cyber criminals, who, especially through increasingly sophisticated phishing strategies, make large investments while saving resources in exchange for even more consistent returns.
Despite organizations providing the worker with adequate technology, capable of ensuring a good level of security, human error is responsible for most of the computer incidents that daily cripple companies of all sizes. Cyberculture, professional and private habits and behaviors, can make a difference in understanding the fundamental characteristics of information security, but above all in being able to recognize and manage cyber threats!
Dr. Nadia Zabbeo, Consultant and Trainer in Cybersecurity / Data Protection and Web Psychology
Monday, November 23, 2023
Final Examination TÜV Thüringen Italia for Data Protection System Expert
9:00 AM - 1:00 PM
Tuesday, December 04, 2023
International School in Digital Governance certificate presentation day and TÜV Thuringen Italy certificate presentation
10:00 PM - 13:00 PM
MODERATED BY:
Dott. Luca Testoni, Organizational Secretariat Manager
INTERVENING:
Dott. Agostino Ghiglia, Member of the Guarantor Authority for the Protection of Personal Data
Dott. Giuseppe Samà, President of Assimprenditori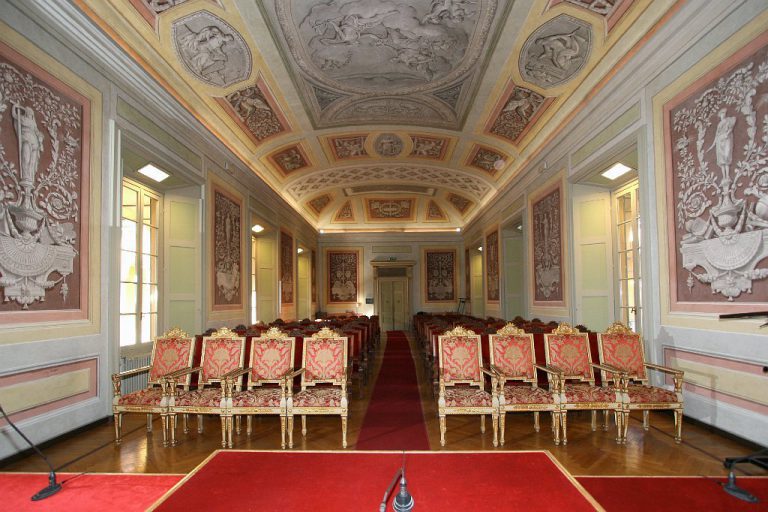 The Foscolo Hall was designed by the architect Giuseppe Piermarini in 1770 at the request of Empress Maria Theresa of Austria, who wanted a room specifically for graduation ceremonies.
It was restored in 1927 on the occasion of the centenary of Foscolo's death, to whom it was dedicated because in this hall the poet held the famous prologue "Dell'origine e dell'ufficio della letteratura" on January 22, 1809.
The rectangular room is characterized by the decoration painted in 1782 by Paolo Mescoli, whom the Vienna Government asked to create "ornaments of majestic elegance".
The painter paints Minerva, the goddess of Wisdom, together with Mercury on the vault.
The address of Aula Foscolo is Department of Political and Social Sciences, Corso Strada Nuova 65, 27100 Pavia (PV).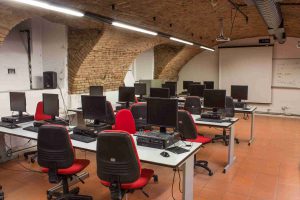 The Aula DOS is located in the Department of Economics and Business Sciences and will be used exclusively for the final exam day.
Address: Department of Economics and Business Sciences Via San Felice 5 27100 Pavia (PV)